Butchers the traditional way — delivered to you
It is our aim to provide our customers with the best quality meat, properly butchered and prepared to their exact requirements, while keeping prices as low as possible and the level of service high.
Most of our meat and poultry are locally sourced with much of the beef and some of the pork produced on our own farm here in Parkham.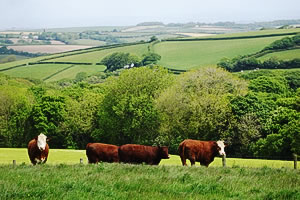 G E Honey & Son family butchers offer a free regular delivery service with a refrigerated van to households and businesses throughout the area. Look at our Products page to select your cuts.
Our farm is mainly stocked with Devon (Red Ruby), Aberdeen Angus and Hereford cattle, which along with a supply of Red Ruby Devons from the Brightley Barton herd and other local farms, are regularly available in the shop. We also keep some pigs, mainly rare breeds, which tend to produce fatter pork; ideal for fat bacon!
Visit us or telephone your order
For anyone wishing to visit the shop at Parkham the opening hours are currently as follows: Monday to Friday 7:00am to 5:30pm, and 8:00am to 1:00pm on Saturday. Anyone not able to get to the shop during the day can place an order for collection at any time (within reason).